The Benefits Of Investing In Swan Valley Real Estate
Suburbs in and around the Swan Valley region are now regularly touted as some of the best suburbs to buy into in Perth in 2021.
Why? Because, put simply, the Swan Valley is one of Perth's most idyllic and desirable areas.
Home to an abundance of rich cultural heritage, stunning nature and fresh local produce, it has the distinction of being WA's oldest wine producing region. It's an area that has long been the go-to destination for visitors in search of fine food and wine, charming art galleries and eclectic stores. It's been the jewel on WA's tourism crown for many decades and now, where it was once a sleepy, rural hamlet occupied by winemakers and descendants of the original settlers in the area, it has now become a thriving, vibrant mecca only 25 minutes from the CBD. It's little wonder then that home buyers and investors are flocking to the area!
If you yourself are thinking about buying into the area then you may want to consider some of our top reasons to invest in the Swan Valley below.
Incredible lifestyle on offer
Lifestyle factors are often key when it comes to determining the best suburbs to invest in around Perth. The people of Perth are a discerning bunch – we love our beaches, our rivers and our parklands. Amenities like schools, shopping centres, medical facilities and restaurants are often high on our list of non-negotiables when it comes to choosing a new place to live. The best Perth suburbs to buy into are always going to be those that are well-established and well thought out. Beyond that, Perth's hottest suburbs have always been those that have something special to offer, and the Swan Valley has that in spades. It's viticulture, thriving hospitality industry, proximity to the city and access to natural attractions like the Swan River and Whiteman Park mean that it's appeal will never fade. The Swan Valley will always be in-style and in-demand. For homebuyers it's a great place to live and for investors it's a safe bet. The amazing lifestyle on offer in the Swan Valley is both a strong driver for housing price growth and a drawcard for rental tenants and high yields. Investors can feel confident in knowing that people want to live in the area and that suburbs, such as Dayton, deliver great bang for their buck.
Close to everything
Proximity to Perth's CBD has always had a great influence on housing prices, and the Swan Valley is just 25 minutes away. Suburbs and estates at the gateway to the region are even closer – St Leonards for example is only 20 minutes from the heart of the city. Additionally, residents in the area also benefit from being close to a whole host of other attractions and important retail and employment hubs. The airport, Midland, Guildford and Ellenbrook are all close by, as is the important conservation area of Whiteman Park, family-fun locations like Caversham Wildlife Park and scenic spots like Bells Rapids.
The Swan Valley region and its accompanying suburbs truly is just a stone's throw away from everything you need – and it's all become even more accessible than ever before.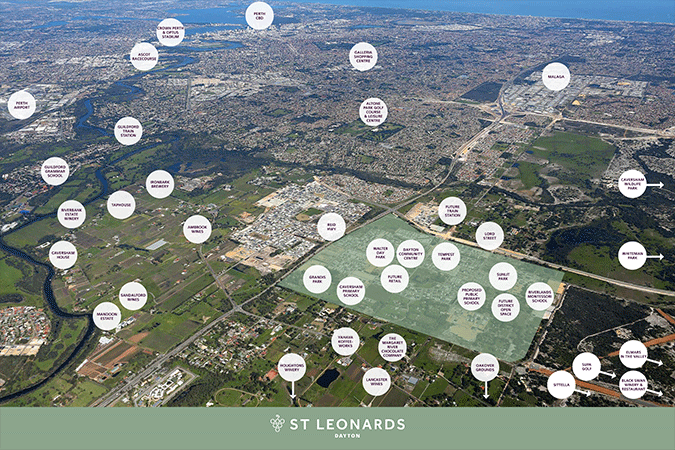 New infrastructure on the way
Perth's north, particularly the Swan Valley, has recently benefited from a great deal of investment in new and upgraded infrastructure. Major projects like the recently completed Northlink transport route between Morley and Muchea have improved journey times and decreased congestion throughout Perth's northern suburbs, whilst future planned works and work currently underway on the government's new Metronet rail line are set to further improve accessibility. Money is also being spent on a number of new facilities in the area, and on creating green open spaces and recreational areas for residents – Dayton residents will soon benefit from their own neighbourhood park (phase one currently underway) and new features around Dayton wetlands. A future junction in Midland and recreation and aquatic centre in Ellenbrook are also a welcome addition to Perth's north.
It's still possible to get a great deal
One of the main benefits of building or investing in the Swan Valley is that it's still in many ways undervalued. With Perth's median house prices exceeding $500,000 for the first time since 2018 this year*, it's getting harder and harder to get onto the property ladder. Around the Swan Valley you will still find pockets of very affordable land where it's possible to build a large family home close to the city, but those opportunities are becoming rarer. Whilst popular, high demand suburbs like Upper Swan have median house prices that are outpacing Perth's average (Upper Swan reached a median house value of $570,000 this year according to reiwa.com.au) you'll still find great value in newer estates. In Dayton, you'll find excellent prices on house and land packages and land for sale – especially when comparing block sizes to those in nearby suburbs and estates. Located just 16km's from Perth, it has a median land value of just $220,000*, whilst similarly distanced Bibra Lake and Landsdale have median land prices of $368,800 and $325,000 respectively.
Employment opportunities in the area
Lastly, one of the key draw cards for buyers in the Swan Valley is the many employment opportunities on offer in the area. The Swan Valley's tourism industry is worth $340 million and it supports a lively hospitality industry. The area's thriving viticulture scene also generates hundreds, if not thousands, of jobs each year. As more money is poured into infrastructure around key tourism attractions like Whiteman Park, and in developing WA's wine industry, it's expected that the number of jobs will only continue to grow.
Final note…
Buyers and investors in WA have had to face the harsh reality of being priced out of some of Perth's most beautiful suburbs – but luckily the Swan Valley remains as a final bastion of affordability close to the city. With prices around Perth on the rise and so many new, exciting changes coming to the area, it won't be long before prices catch up! If you're thinking of investing, get in touch with us today to register your interest.
1. According to reiwa.com.au data. Accessed 15 July 2021.
Current Availability
The most up-to-date information at your fingertips. Search the whole estate or individual stage releases to find out which lots are available and get the latest pricing, all in real time.