Privacy Policy
How do we protect your information?
We implement a variety of security measures to maintain the safety of your personal information when you place an order or enter, submit, or access your personal information.
Do we use cookies?
Yes (Cookies are small files that a site or its service provider transfers to your computers hard drive through your Web browser (if you allow) that enables the sites or service providers systems to recognize your browser and capture and remember certain information.
We use cookies to help us remember and process the items in your shopping cart, understand and save your preferences for future visits, keep track of advertisements and compile aggregate data about site traffic and site interaction so that we can offer better site experiences and tools in the future. We may contract with third-party service providers to assist us in better understanding our site visitors. These service providers are not permitted to use the information collected on our behalf except to help us conduct and improve our business.
Remarketing
We also uses 3rd party vendor re-marketing tracking cookies, including the Google Adwords tracking cookie. This means we will continue to show ads to you across the internet, specifically on the Google Display Network (GDN). As always, we respect your privacy and are not collecting any identifiable information through the use of Google's or any other 3rd party remarketing system.
The third-party vendors, including Google, whose services we use – will place cookies on web browsers in order to serve ads based on past visits to our website. – Third party vendors, including Google, use cookies to serve ads based on a user's prior visits to your website. This allows us to make special offers and continue to market our services to those who have shown interest in our service.
Google Analytics Demographics & Interest Reporting
This website uses cookies to facilitate the sampled reporting of demographics and interests of its visitors within Google Analytics – this website will not merge or facilitate the merging of personally-identifiable information with non-personally identifiable information previously collected from Display Advertising or divulge said information to any 3rd parties.
You can opt out of this feature by visiting the following link:
Google Analytics opt-out browser add-on
This data is used to provide better services and more relevant content to our users based on demographic and interest data.
Opt-Out
You may opt out of Google's use of cookies by visiting the Ads Preferences Manager. Also, you can opt out of other third-party vendor's use of cookies by visiting the Network Advertising Initiative opt-out page.
Current Availability
The most up-to-date information at your fingertips. Search the whole estate or individual stage releases to find out which lots are available and get the latest pricing, all in real time.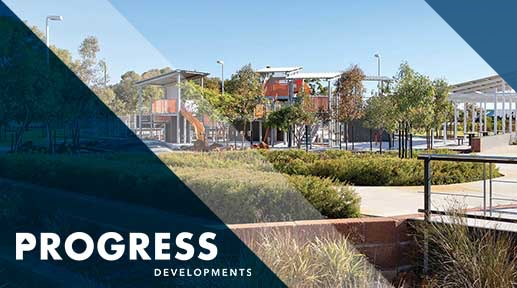 Our land estates
Whichever Progress Developments' estate you'll call home, you'll be part of a happy, healthy, sustainable community in a well-planned residential estate.