Swans making progress in Caversham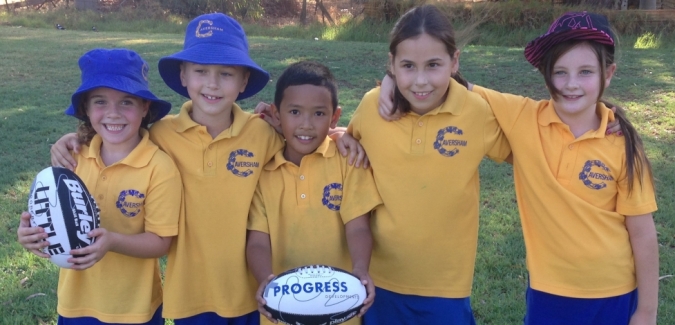 The Swans District has put the finishing touches on the Caversham Primary School After-School Program. Thanks to the delivery of the 6 week program, Caversham is buzzing with the excitement of AFL, with more than 30 participants, aged 5 to 12 participating in a series of handball, kicking, marking and game sense drills. The program was designed to increase the exposure of students to the Swans District junior community pathway and develop fan basing opportunities for Swan Districts Football Club (SDFC). Whilst a junior community club doesn't presently exist in Caversham, programs such as these will no doubt enhance Auskick and Modified participation, which will pave the way for the development of Caversham Football Club in 2016.
The highly entertaining program, which was delivered by a suite of Swans District staff, provided students who didn't possess a link to the game with an entrée to AFL before the start of the 2014 Premiership Season. The program, which is proudly supported by Progress Developments, barely scratches the surface on what is destined to become a bumper 2014 at Caversham Primary School and for the suburb of Caversham. The Swans District is delivering a smorgasbord of programs aimed at kids aged 2 to 12 at Caversham Primary School, including Auskick, Eagles Faction Footy and a pilot Kindergarten program, Swans Footy Fundamentals. These programs will supply students with a basic to intermediate education on the skills of AFL with exposure to boundary, field and goal umpiring in Years 5, 6 and 7.
Swans District Manager, Isaac Stewart hopes such programs will continue to flourish and lead to enhanced participation across Caversham and the Swan Valley with the subsequent goal of higher school to club transitions. "The Swans District and Caversham Primary School have developed an exciting partnership with the support of Swans District Principal Partner, Progress Developments, which will expand club and school participation outcomes in preparation for the development of Caversham Football Club in the not too distant future," said Stewart. Progress Developments continues to provide superb support to the Swans District, which shares its vision to provide Caversham and the surrounding suburbs with access to exciting opportunities dedicated to building strong communities.
Current Availability
The most up-to-date information at your fingertips. Search the whole estate or individual stage releases to find out which lots are available and get the latest pricing, all in real time.