How To Choose Your New Swan Valley Neighbourhood
There's almost nothing in life that is more exciting than purchasing your dream block in your dream location. If you're thinking about building a home in the Swan Valley then congratulations! It really is so rewarding to see your new home go up on a block that you have lovingly and carefully chosen. Purchasing land for sale means you'll be given the opportunity to pick a Swan Valley suburb that perfectly fits your needs, and with many new developments popping up, there certainly is a lot to choose from! 
If you're looking at purchasing land from a developer then there are a few things to consider. Every land developer is different and will have a different range of incentives available for home buyers looking to buy into their estates, so it's worthwhile doing your research. Most importantly, every estate is unique. Each will have their own design guidelines, amenities to offer and a different community feel. When choosing your next home, make sure you take the time to think about what is most important to you. 
Here are a few things you should think about when choosing your new Swan Valley neighbourhood. 
Location
Location is key when it comes to choosing a new land estate. Many people choose to settle in the Swan Valley because it is exceptionally well-located – most suburbs in the area are situated no more than 40 minutes away from the CBD. St Leonards Private Estate in Dayton is only 20 minutes from the city! There's also a lot to love close to home. The Swan Valley is famous for its world class wineries, breweries and art galleries. Plus, it's situated right on the cusp of The Darling Ranges, which provides access to incredible scenery and natural attractions. When looking for a place to build your new home, consider the proximity of prospective estates to your workplace and key amenities like shopping, cafes and child care facilities. You should think about where your block will potentially sit in relation to parks, roads and other features of the estate.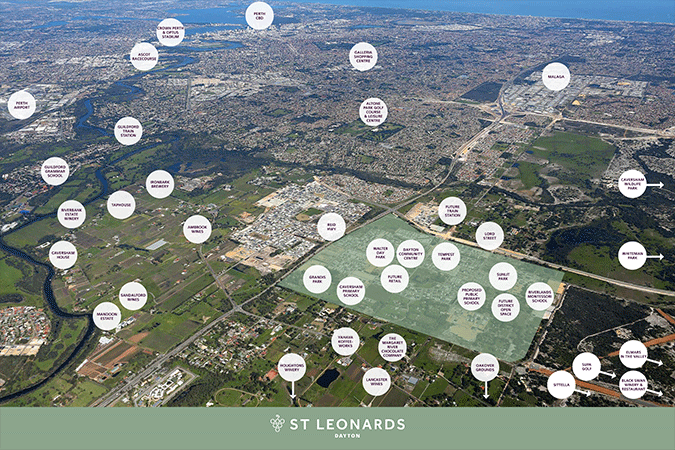 Amenities
What amenities does your estate offer? Most modern land developments aim to be much more than just rows and rows of homes. At St Leonards Private Estate, all you need is close by – parks, playgrounds, a primary school, sports facilities, shopping centres and a planned central plaza. Residents of the estate never need to travel far for the essentials, and with the new Metronet train line project now well underway, it won't be long until it's easier than ever to get to-and-from suburbs in the surrounding area. 
Planned development
Before you choose an estate you should consider whether or not there are any planned works set to take place in the area. New infrastructure developments and upgrades can often add value, and may mean that your area could become even more convenient. There's a lot of new development taking place around the Swan Valley and recent road improvements have made it much easier to travel from point A to B around Perth's north, so now is a great time to buy! 
Community
Some neighbourhoods will have more active communities than others. If you like living in the type of place where your kids can make friends up the street and you can get to know your neighbours, then you should look for an estate with a lively, thriving community of people. A great way to get a feel for a neighbourhood is to sit down at local cafes, or even just mingle in local spaces with residents already living in the area. 
Incentives
Sometimes land developers will try to sweeten the deal on your new land with attractive incentives like cash bonuses, or free additions to your home such as landscaping, fencing, water tanks or solar panels. Every new home at St Leonards Private Estate is eligible for new fencing and landscaping – that can save you some serious dollars and means you'll be moving into a beautiful, fully finished new home!
Site costs
Site costs can vary considerably depending on the estate and specific block that you choose. For a small relatively flat block of land, site costs might be minimal, but costs can quickly increase for those with a higher soil classification. 
Encumbrances
Sometimes there can be encumbrances in place on land that can restrict the way it's used. This can be a good thing as it can protect your new home from future changes that may impact on its value. Restrictive covenants for example prevent land from being used in certain ways; they can prescribe building height, materials, boundary fences and require dwellings to be constructed to a particular standard which can help to protect your interests. Easements on the other hand are usually arrangements that allow access to a portion of your land.  This can mean you are unable to build or construct a building over that portion of land. 
Property values
Before you make a purchasing decision, it's a good idea to do some research into historical property values and projected future property values to ensure that your new home is going to be a good investment. The Swan Valley has grown substantially over the last decade and remains a high demand area. With affordable land for sale, St Leonards Private Estate offers a rare opportunity to secure a home in the Swan Valley at an exceptional price. 
Want to know more about the current land opportunities we have available? Browse our land for sale, or get in touch with us today!
Current Availability
The most up-to-date information at your fingertips. Search the whole estate or individual stage releases to find out which lots are available and get the latest pricing, all in real time.